Every one has to reach this stage of the life -- RETIREMENT.
How do we prepare for retirement means a lot and will definitely play a very important part in deciding, whether we have a healthy and happy retirement.
If you want to have a good and healthy retirement, you have to ensure you prepare well for it.
What Do We Have In Term Of Retirement?
You may have a good and healthy retirement,
Have one good but not so healthy retirement,
A healthy but not so good retirement.
A happy and healthy retirement is one :
You can do whatever you want to do
Have the freedom to do it,
It is not just about sitting down enjoying your food or game that you like
And no worry about work and money.
If we are not well-prepared for a healthy life, then we may not have a happy and healthy retirement, as we may be bogged down by sickness or restriction in movement, due to old age or injury.
Assuming we want to retire from working life, and looking forward to have a happy retirement lifestyle, which we have been looking forward to, and to experience a new phase of our life.
How Do We Go About It?
Here are some steps which may help you to achieve what you are looking for in retirement.
1. Draw a detail plan of what you want to do in retirement.
After the daily grind of working life and planning for the family, it is time to plan for retirement, and enjoy the rest of our life.
Hence, it is important that we plan our retirement, and have a detail planning mapped out and stick to the plan during our retirement.
2. Taking care of our health is our priority during retirement.
Without a healthy body, it will be quite difficult to enjoy a good and happy retirement life, and enjoy the lifestyle we are going to appreciate for the rest of our life.
Our body will tend to stop working, the muscle will not work as we wanted if we do not do basic exercise daily, at least we need to ensure we are walking for certain numbers of minutes every day, just to keep our muscles working instead of deteriorating and sooner will lose its motor senses.
I enjoy brisk walking,  it helps to keep me healthy and make my body metabolism working.
I am not a doctor, so I will just share here as a layman, what I do to keep myself healthy.
Brisk walking for at least 30 minutes a day, swinging your arms as you walk, this is to ensure you do the bare minimum of exercise to keep your muscles in good shape
As I learned and share the Words of Wisdom below.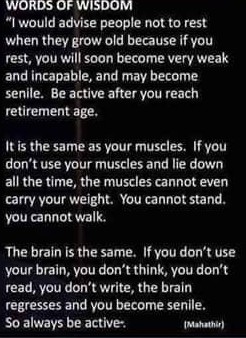 3. Having a stable income for retirement.
By now, we should have worked out on how much is required for our retirement, and what is the bare minimum.
If you still have not set up a continuous stream of income for retirement, it is better to start now and work on it.
As I mentioned in my earlier article, one of the method is to sign up with Wealthy Affiliate ,and start blogging and sharing your life experience, at the same time generate some passive income for your retirement needs.
Engaging in blogging every day in WA, this will also help you to keep your mind and mental working, and keeping your mind from regressing and becoming senile.
Hence, this may work out to be a very good retirement plan,
blogging and
Putting it in writing your sweet memory in your website,
Generating good traffic and income,
At the same time can help to keep the mind fresh and active during old age.
4. Search a good place for retirement and do it with your partner.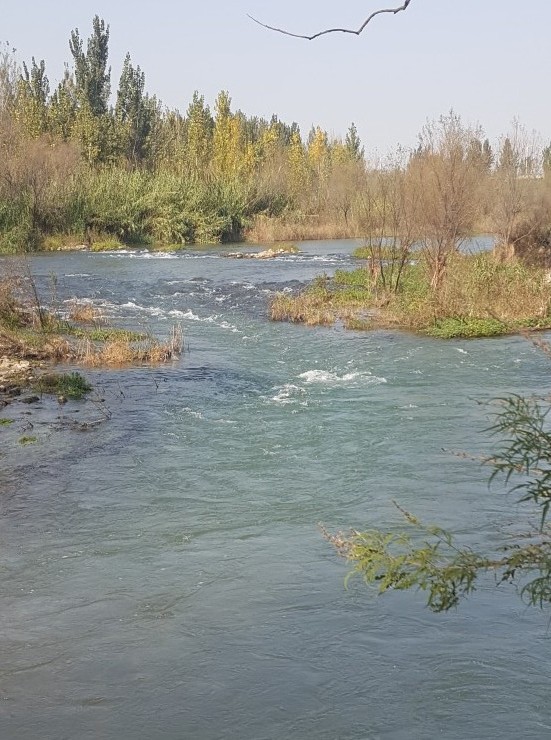 Yes, if we can retire to a place with the scenery as shown in the picture above, that will be like living in paradise, with fresh air and away from all the pollution and hassle.
Retirement does not mean you have to stay in your current place, you may want to downsize, and move to a more secluded place, away from the traffic and over populated area, and make sure you can have a place to do your daily walk and exercise.
By staying in a smaller house may help you to free up some free money, and help you financially in the golden years ahead.
Well, you have to do all these with your partner, and decide on any retirement decision together, as you want your partner to stay with you together in the golden age years.
It will be better that decisions are made together, if not, you may not have a happy and peaceful time, since you may be seemed to force it on your partner to accept your choice, which may not be to her/his liking.
5. Be realistic about what retirement mean to your lifestyle.
A lot of people enjoy the first few months of their retirement, and then reality sinks in, they find that they need to change their routine now that they are in retirement.
Fighting boredom is one of the main task a retiree needs to tackle, hence, if we are planning and looking forward to retirement, it is important to have continuous planning in place.
Perhaps, you may want to catch up with reading all those books which you wanted to read, but did not really have the time to do so, now that you are retired, it is time to catch up with, and what better way than to go to Amazon. And find out what are the books you can read now that you are retired.
These are the first 5 steps to achieve happy and healthy retirement in our golden years, if you like the article and gain some insight of it, do share this article with your friends.
And do drop your comments below if you have good ideas on what makes a happy and healthy retirement.
Please follow and like us: