What Is Online Financial Scams?
If you talk to anyone whom you know very well, it is likely that they will tell you they don't believe about online financial scams, and they could be targeted by the online scammers or they will ever get (caught or) scammed (by scammers).
It is human nature to think that this will only happen to others and not us, it is a myth to believe that negative incidents and bad luck only happen to others.
There are a lot of online scams nowadays, as technology gets more sophisticated and advanced.
Any invention is a double edged sword. It depends on the users and the creators whether it is put to good use or otherwise.
What Are Some Common Online Scams?
Email Scams
Credit Cards Scams
FaceBook Scams
Job Offer Scams
Investment Scams
Financial Training Scams
Wechat IM scams
1. Email Scams

There have been a lot of scams using emails.
I have received a fair number of these emails, from people claiming they worked in certain banks, and the bank customers had passed away. Hence their funds were sitting idle in the bank, and they could help to get the funds out.
Example of the email scam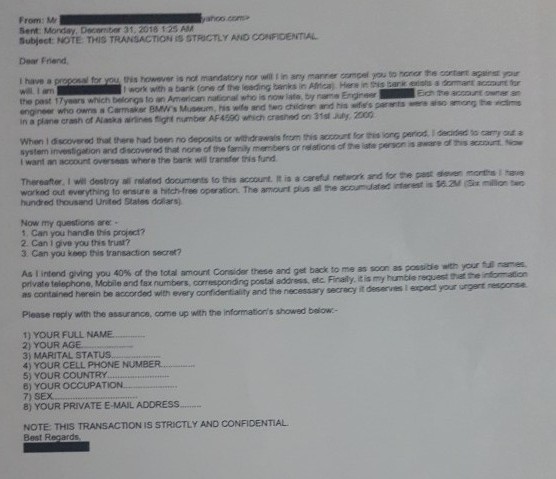 2. Credit Cards Scams

At the back of the credit card, there is a Card Verification Code, commonly known as CVC number.
Banks tell us that the CVC number is unique,  we are not supposed to let anyone know this number, as this is one of the safety features of the credit cards, besides the chip on the card.
However every time we do an online purchase, the merchant requires us to fill in the CVC number.
Previously when there was no CVC number, we only had to fill in the credit card 16 digit numbers.
Due to various credit cards fraud cases, the banks decided to create the CVC as a security measure, and to verify that the user is the legal card holder.
So, if you pay for something online, you are required to key in the CVC number.
How do you know the number will not be captured by any malware? or whatever if the online system is hacked?.
3. Facebook Scams

There are a lot of fake Facebook accounts.
Facebook does not ensure that those who register for the accounts are legitimate.
Users can use any names to register and open an account.
As such, it is difficult to determine whether the person you befriend or connect with on Facebook, are really who they say they are ,even though they use photos in their profiles.
It can be quite dangerous, especially with online transactions, cyber bullying and even false "friends".
What the Mass Media Reported?
On 16th February 2019, The Straits Times of Singapore reported, that at least SGD $ 1 m lost to Facebook impersonation scams between January 2018 and February 2019, according to the Singapore Police Force.
It was further reported that the Police had received at least 42 reports where victims were contacted on Facebook and duped into transferring money to the scammers.
To read more of this, you may want to access the Straits Times of Singapore for more details.
4. Job Offers Scam

Another big scam which i came across is the job offers scam.
You may receive an email informing you, that you have been offered a job or selected to work for a certain company overseas and so on.
Then they send you a contract and tell you to contact an "authorized" travel agent, to process your work visa and whatever paperwork you may need to work in the country where the job is.
They tell you to pay for the cost of the permit or visa and remit the money to certain bank account. If you bank in any money, it will be gone.
If you try to query them on the legibility of the procedure, they will not bother to reply to your email. Your money will just be lost.
Example of job offers scam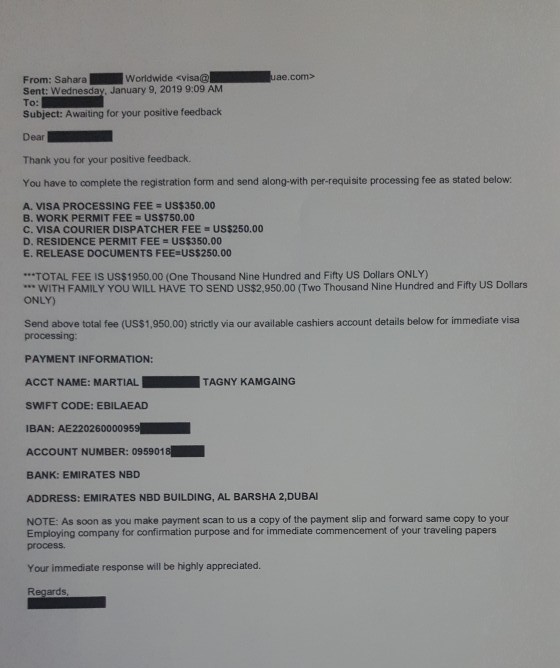 5. Investment Scams

There are aplenty online investment scams where many claim to get rich, making at least a thousand dollars per day by signing up for the offer.
A lot of Option Trading platforms claim to make their investors rich within minutes.
If people fall for this, they soon discover they are not able to withdraw their capital, and their so called winnings. After a while, the platform will no longer be available.
It has been reported (discovered) that a group residing in certain countries in the Middle East is operating and specializing in this scam.
6. Financial Training Scams

This is another scam which claims to be legitimate, and provides financial training for people, who want to learn how to invest or trade online. (They offer to conduct the necessary training so that you are able to trade online).
During the course of the training, they ask you to open an account with a trading platform, so that they can guide you in your investments. The platform is similar to the platform mentioned in No. 5 above.
If you check the caller ID, it may look like the phone call is made from the country you are residing in. However, when you call back, you discover that the number is not a local number and cannot be reached. Before you know it, any money you put in is completely lost!
7. Wechat IM scams

Currently there are a lot of scams using the Wechat IM system.
Usually in these scams, the culprits try to trick the victims into giving them their online credits or gift cards for making purchases, usually in exchange for sexual favors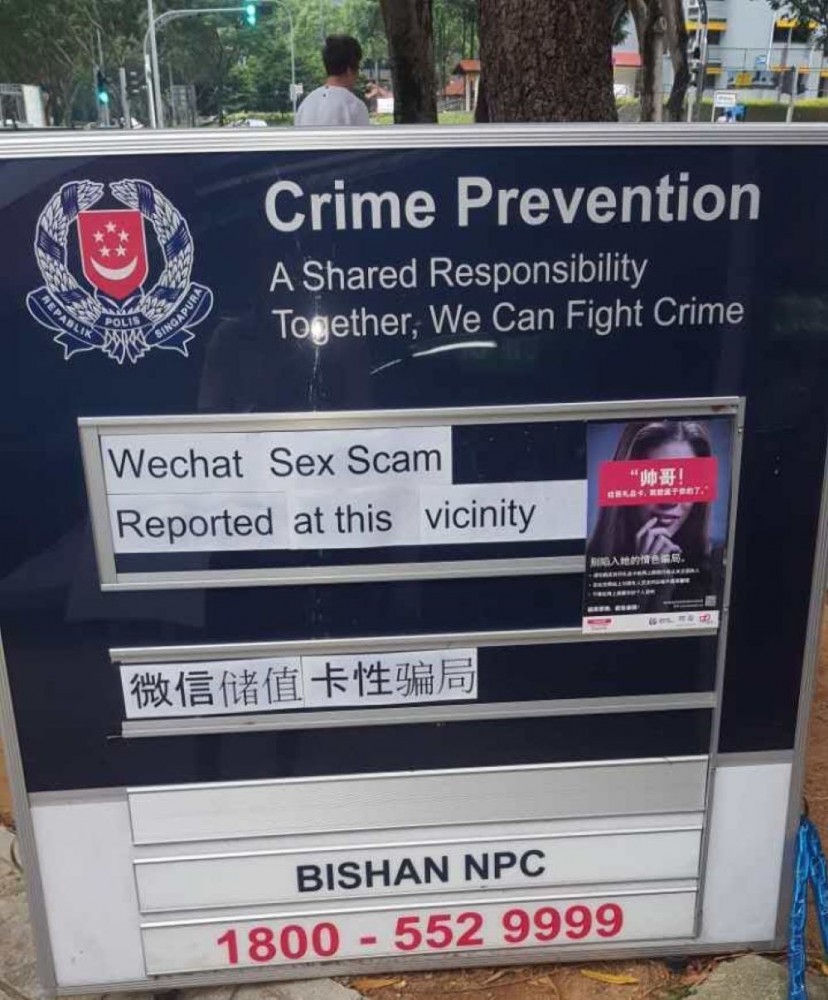 Above are some online financial scams now commonly used to try to scam people who are ignorant.
Summary
They usually work on the greed of people who want to get rich quickly and easily.
(You Know You Only Live Once ) and if we are not alert and prudent, we can easily fall for these scams.
Many have lost their hard-earned life savings and have had their retirement plans shattered.
If you have doubts on how to detect online financial scams, you may want to check out Federal Trade Commission Scam Alerts
You may also want to make sure of the search function below here to find out more 
Last but no least, I find this FTC site has very useful information to help in our effort to detect online financial scams, and save us from any unnecessary financial losses.
In conclusion, we need to stay vigilant in our daily usage of online transactions, and beware of the scams.
Please follow and like us: